In all education and home settings, from early childhood through to secondary school, students love NUMICON.
They enjoy their success! 
Numicon provides the access to learning for children with learning difficulties or special needs -  success and enjoyment of maths at long last!
With Numicon teachers gain confidence in Maths for themselves and in their teaching. They value the systematic and progressive approach of the teaching and practical resources supplied.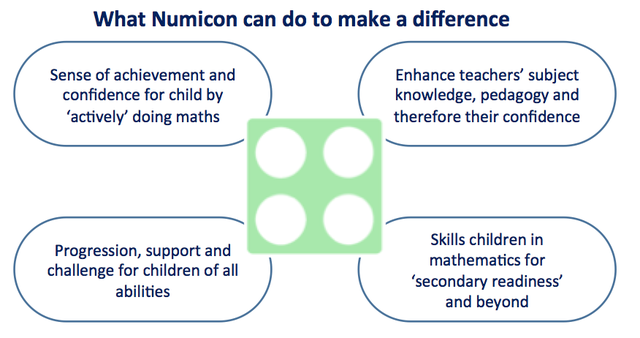 Numicon provides an experience of numbers through a structured set of activities with shapes and pegs or counters.  The Part-whole concept is evident from the beginning along with comparisons of patterns.
Numicon shows children what the entire group of a number looks like in a pattern and explores what that group looks like with a variety of resources and alongside patterns of other numbers.
In this way, a sense of 'number' and how it relates to other numbers is strongly built into a child's understanding.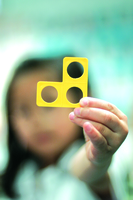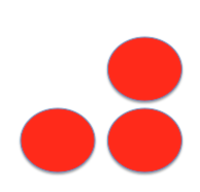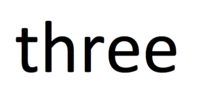 Concrete and pictorial, then abstract.
Numicon follows this model from Jerome Bruner through their primary years to support children's thinking and develop persistence and confidence.
Numicon teaches children about numbers and what they mean, before and alongside counting and patterning activities through hands-on activities, games, songs, in a structured approach.
This way of teaching is supportive to all students, but particularly those requiring a visual, hands-on and explicit style. The manipulatives are tools of thinking. Their use:
Develops 

fluency

 by using a visual, practical base to develop conceptual understanding and fluent recall
Helps children to 

reason mathematically 

through the use of concrete objects 
and 

spoken language

 to explain and justify.
Develops children into confident problem-solvers working in groups and independently.
Numicon is written following the same recommendations found in, Effective pedagogy in Mathematics,  Anthony & Walshaw, published by UNESCO
Most children with Down syndrome, autism, dyslexia, dyscalculia, dyspraxia, Fragile X, Prader-Willi syndrome and students with other learning issues make encouraging progress with Numicon.
There are many challenges in learning maths:
Words and their use are confusing- especially in English!
Numbers are not objects- they cannot be picked up and explored.  Instead they are a concept.
Some people find the sequencing of numbers and the place-value system difficult to grasp.
That's why being able to pick up the shapes of the numbers and do things with them (and with the pegs to make the patterns of the holes), children see numbers as 'wholes'  made up of parts.

The Numicon experience gives students the opportunity to learn numeracy through:
Words Shapes Numerals Number lines Counting Patterning Sequencing Everyday life experiences
Cuisenaire Rods Songs Craft Play activities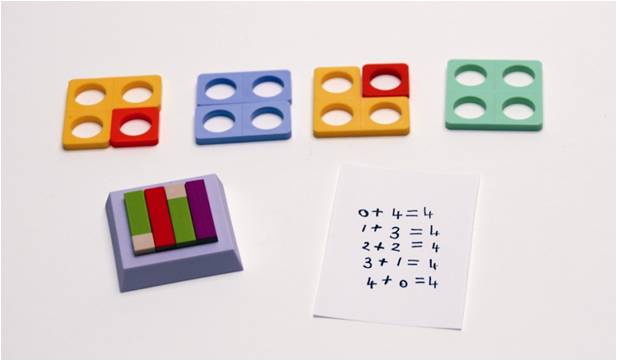 NUMICON is:
Quality first learning

Written by experienced and qualified teachers and specialists

Researched-based

Progressive

Number relationships

Counting experiences

Not reliant on counting for calculating

Emphasises mathematical language

Make connections to apply their understanding

Inclusive for all students
Numicon creates a supportive learning environment
Numicon encourages reflective thought and action
Numicon provides for making connections with prior learning
Numicon shows how new learning is relevant in real life
Numicon encourages shared and individual learning
Numicon provides many opportunities for learning