Students with special needs or high learning needs will benefit from Breaking Barriers.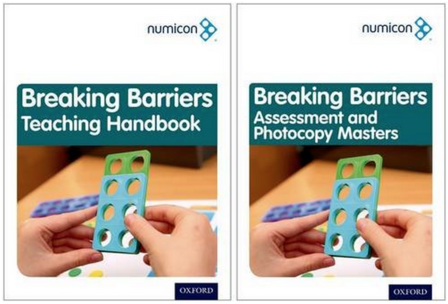 Breaking Barriers Teaching Pack and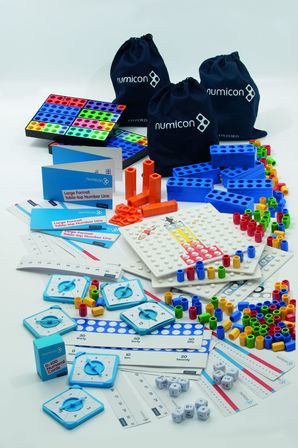 Group Pack or One-to-one pack options
This programme has been designed specifically for
students of any age who are experiencing significantly greater difficulty learning mathematics than the majority of students of their age

students who are working well below the level expected of their chronological ages
Breaking Barriers can be used in this way:
Intervention programme for any age student at Pre-level 1 - Level 1

Intervention programme over any period of time for any student struggling with Maths

Learning programme for students who have special needs or high learning needs
It is well documented that pupils with High Learning Needs learn most effectively through multi-sensory teaching; Numicon's emphasis on doing and seeing, alongside speaking and listening, capitalises on pupils' visual and kinaesthetic strengths throughout the teaching activities.
Aims:
Develop the sound foundation of basic number understanding essential to achieve their individual potential

All students to have a positive experience of learning mathematics.
The Breaking Barriers teaching materials offer:
practical solutions to students' difficulties

support to teachers in their assessment, planning and teaching

small-step teaching follows the typical acquisition of early number skills, addressing the acquisition of numerosity (awareness of the number of objects in a set), counting, the ability to recognise and exploit pattern, and early computation.

further ideas for differentiation

mathematical language

connecting activities and application

learning linked to the Assessment tools.
Some students will move quickly through the BB activities which cover all of the strands included in Numicon 1, 2 and 3. Others will move more slowly and take longer because they have greater barriers to learning.
Independent research projects report consistently that the majority of children show a marked rise in confidence with maths when they work with Numicon.
Article from Downs Syndrome Education International on the Challenges of teaching numeracy to children with Down syndrome.
Katrina attributes her success in maths to beginning her learning with Numicon.  Listen to her interview on RadioNZ, Nine to noon programme, 27 March 2014. Copyright limits posting the link here.
See what Hannah has learned
Place value
Doubling using Numicon shapes
Adding two-digit numbers with Numicon shapes
Students with learning difficulties make impressive progress with Numicon. Watch Tyler's progress below.
Numbers are all around us!
Search for more videos families and other educators have loaded on YouTube
Look at products for students with high learning/special needs