Numicon is a proven, research-based and effective programme with long-term positive results. 
Numicon is complimentary to the NZ Curriculum.
Numicon, internationally shows impressive results for all children, but particularly for those who find mathematics difficult and have learning difficulties in school. They are likely to have dyscalculia.
Numicon uses a multi-sensory approach to learning.
NIP is effective for children, targeting those with working memory problems because of its tactile and visual nature.  It appeals to the children- they love the colours, and activities. They feel successful and return to every session with a sense of achievement and joy- their love of learning is seen to return. One TA has said to me- "They come bouncing back!"
Research links click here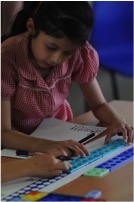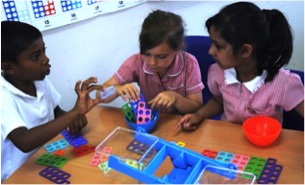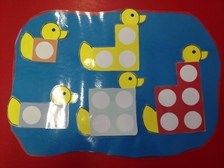 There are four clear options for RTLB's using Numicon
Early childhood- First Steps with Numicon in the Nursery and Breaking Barriers
Children learn through play and making connections across the various learning centres in an early childhood setting.  This book shows teachers how to learn seeing and manipulating patterns that in turn will give them a sense of 'number' and the vocabulary associated with number experiences. The apparatus from Breaking Barriers is used, or the accompanying resources in the 'First Steps with Numicon in the Nursery' kit. The book shows how to develop learning in the context of play. For children with learning needs this provides a wonderful accompaniment to Breaking Barriers at this level.
This is a differentiated programme for students with high learning and special needs requiring long-term intervention. It is also suitable for students of a higher intelligence showing a difficulty with 'number'.  These students are likely to have dyscalculia. The duration of using BB depends on the student's own ability to progress through the activities and concepts. Some students with more complex needs will take 3-6 years to work through this book. Others use BB as a 'year long' intervention. It is designed to stand alongside Numicon 1-3 in an inclusive classroom setting, or on its own as an intervention.
Numicon Intervention Programme
This is an intervention lasting approximately one term taking students from NZ Curriculum Level 1 to Level 2.  Some students may take longer to progress depending on their needs. Secondary students may progress in a few weeks. There is no time restraint in the programme. This resource is only available with a specific course.
Big Ideas - Place value, Addition Subtraction, Multiplication, Division, Fractions, Decimals, Percentages, Money and Measurement This is in book form with 12 weeks intensive teaching for the older students in Years 5 - 10. Written by Steve Chinn and a team of specialist teachers who are accomplished teachers working with students who have dyscalculia.
Click here for more information
To purchase click here
Professional Learning Development training can be booked for your cluster and supporting schools over 1-2 days and a follow-up visit. Many clusters around NZ have already done this.  They have loved it!
How does Numicon fit with PaCT? Learning progressions