Numicon is a distinctive approach to children's mathematical learning.
Numicon emphasizes three key aspects of doing mathematics:
communicating mathematically
exploring relationships 
generalizing
These aspects are key to the success of using Numicon for intervention or acceleration of students' learning.
Three options:   Breaking Barriers, Numicon Intervention Programme, Big Ideas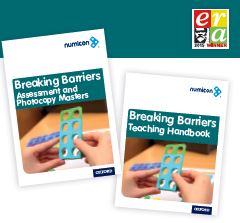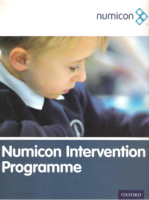 .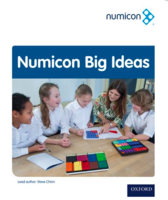 Breaking Barriers (BB)
Suitable for all students with high and very high learning needs, including special needs. More information
Numicon Intervention Programme (NIP)
Suitable for students in Years 3 - 5 who are struggling and are working at Level 1 or early Level 2 of the Curriculum. More information - see below
Big Ideas (BI)
Suitable for students in Years 5 - 10 who are struggling and are working at Level 2 of the curriculum. More information
NIP
The programme aims to:
Enable children to develop the skills and understanding that will allow them to participate successfully in their class lessons
Narrowing the gap between the least able and their average-achieving peers.
Students for whom the gap is the widest may need to spend longer at a pace that suits their needs, or use Breaking Barriers
Bring them to NZC level 2, ready for level 3
Note:
All files are downloaded via a subscription
Training for all staff is important - teacher aides with supporting teachers, RTLB's or SENCO's. 
Training is given by a Numicon consultant
NIP guide book shows you how to use the online resources.
Options for Intervention and related costs
NIP Online:  You can purchase an annual subscription to the online resources for the Numicon Intervention Programme here.
The subscription is for one year and can be shared by staff at one institution or organisation such as a school, RTLB cluster, SPELD region, Tutor organisation.
Most RTLB clusters purchase all three programmes to cater for the different students' needs.
Click here for more information.
Click here for FAQ's
.
Intervention for older learners BIG IDEAS click here
.
Testimonial from Christine Duncan, Auckland 
I would like to say how amazingly helpful I am finding the Numicon Intervention Programme to be, along with the equipment and solution suggestions.
I have begun assessments on students (mostly around the 10 year old age-group) and the systematic and in-depth questions have illuminated gaps in these struggling students, that I had overlooked.
 For instance, I had assumed my learners were at least secure in basic counting skills but the Programme easily identified more tuition was needed at the early levels. It became obvious as to why the times-tables were unable to be mastered!
 A nine-year old girl (who /appeared /to be able to count quite smoothly in the initial part of assessment) unexpectedly volunteered, that the numbers 11 and 12, "Always muddle me up." It was so helpful to have this knowledge expressed and consquently, resolve her confusion.
 In fact, suprisingly 80% of the children I assessed in the two weeks following my participation in the Intervention Workshp did in fact stumble with counting backwards in ten's (with 12 and 20 being the 'tricky numbers') and forwards in two's - once past number ten - with the 11, 12, 13 and again 20 being the principal 'offenders.'
With the insight obtained by using this Assessment Programme, I have been able to identify, then use the wonderfully visual resources and equipment to remove learning blocks and so speedily boost ability and confidence in my students. A very worthwhile programme!
John Harward, SPELD Wellington
NIP has the exceptional ability to diagnose where the student has lost track of the 'step by step' process required in learning about 'number'. To read more, click on John's name.

What works for children with Maths learning difficulties including dyscalculia? Click here