Numicon can help you
Most Maths programmes begin with counting as the entry point for learning about number and what numbers mean.
Numicon is different with these aspects taught at the together
Patterns and groups of patterns

Numbers and what they mean

Counting through hands-on activities, games, songs,

Structured approach with a balance of learning through play in a balance of child and teacher-led activities
This way of teaching is supportive to all children, but particularly those requiring a visual, hands-on style.
This teaching approach is inspired by many educators such as Montessori, Gattegno and Bruner.
Bruner explained how we learn - through our senses, early experiences of doing, and relating symbols through using concrete materials, then images or pictures of them and finally abstract symbols.
The Numicon teaching manuals are written as a step-by-step guide with photos, ideas for outside activities, real-life activities and easy assessment tools.
Most children with Down syndrome, autism, dyslexia, dyscalculia, dyspraxia, Fragile X, Prader-Willi syndrome and students with other learning issues make encouraging progress with Numicon.
There are many challenges in learning maths:
Words and their use are confusing- especially in English!
Numbers are not objects- they cannot be picked up and explored. Instead they are a concept.
Some children find sequencing of numbers and the place-value system difficult to grasp.
That's why being able to pick up the shapes of the numbers and do things with them (and with the pegs to make the patterns of the holes), children see numbers as 'wholes' made up of parts.

The Numicon experience gives students the opportunity to learn numeracy through:
Words Shapes Numerals Number lines Counting Patterning Sequencing Everyday life experiences
Cuisenaire Rods (optional) Songs Craft Play activities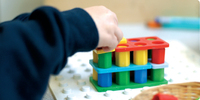 Home educator- Firm Foundations. You can begin this when the child is 4 or 5. Purchase Teaching Packs (NPC and GMS) and Explore Progress Mixed (NPC) and Explore Progress (GMS) for Numicon 1-6 to continue the programme. Explore More books are optional for you.
Preparing your child for school- 1st Steps with Numicon at Home bundle includes Numicon at the Seaside. This kit will also be useful for illustrating maths concepts - right through to high school: Addition, Subtraction, Multiplication, Division, fractions, ratios and scaling, graphs, algebraic equations...
Wanting to support your child at school- Purchase a Maths Bag or box of 80 shapes.
If you are new to Numicon and want more support in teaching your child, buy the Numicon Homework Activities CD and a Maths Bag- lots of fun and games written just for you.
Wanting to challenge your child who loves maths? - Investigations with Numicon
Your child has special needs- Breaking Barriers- written specifically for your child
The Numicon products can all be purchased separately- if you need more...Not a problem! Go to Apparatus Accessories
If your child has dyslexia and/or dyscalculia - we recommend purchasing the Maths Bag and Homework CD initially. This will give you enough resources to begin with. Any extras can be purchased separately.
If you have a child at intermediate or secondary school struggling with maths, then please contact us. Using the Numicon shapes to solve mathematical problems really helps those students 'see' the concepts and gives them the opportunity to explore and learn without the fear of making mistakes.
We offer a discount for parents. The discount voucher code is PARENT.
There are many agencies which will help you with funding. Contact The Variety Club