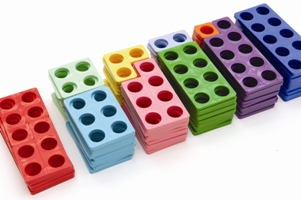 Numicon is an inclusive, multi-sensory approach teaching numeracy using patterns to represent each numeral. These patterns demonstrate the relationship of numbers so clearly!
Students are more able to think and work mathematically using the equipment and imagery of the patterns.
Teachers gain confidence in Maths for themselves and in their teaching. They appreciate the teaching plans and resources supplied.
All preschool, primary-aged through to secondary school students love using this programme. They enjoy their success! The equipment can be used for many years to illustrate mathematics.
Children with learning difficulties or special needs find success and enjoyment of maths at long last.
Australian customers please follow this link:
http://www.oup.com.au/primary/numicon
| | |
| --- | --- |
| What is Numicon? | For Teachers: |
| For Parents and Tutors: | Go Shopping: |
| Special Needs: | Professional Development: |
See our companion website www.akoranga.co.nz for more great resources
All information is of a general nature only and must not be taken as advice. Every attempt has been made to represent the products on this website and the information with integrity. Prices and products are subject to change.